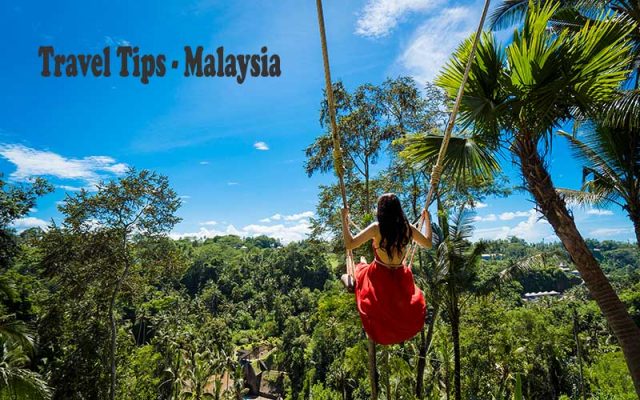 Malaysia is brimming with nature's bounty and makes for one of the top destinations to visit in Southeast Asia. This diverse country has inhabitants from various ethnicities, and you can see those influences in its attractions, food, and day-to-day life. It boasts delectable cuisine, verdant rainforests, awe-inspiring architecture, sun-kissed beaches, and plenty of shopping options. If you are a first-time visitor to this beautiful destination, here are the best travel tips that will be immensely helpful during your stay in this tropical paradise.
Useful Things to Know Before You Visit Malaysia
Best time to visit Malaysia
Malaysia is a year-round destination, and you can visit this splendid country at any time of the year. Peninsular Malaysia on the West Coast has monsoons from April to October. However, the showers are very light, so you can still travel around comfortably. On the other hand, monsoons in the Malaysian Borneo on the East Coast are from November to February. This area receives very high rainfall, and travel during these months is not recommended.
Most-Spoken Language
The official language of Malaysia is Malay and is widely spoken throughout. Other popular languages include Tamil and Mandarin. English is spoken in most tourist centers, but it is helpful to learn a few essential words and phrases in the local language for better communication.
Weather
Malaysia has a tropical climate, and the weather is hot and humid for most parts of the year. The average temperature is around 26-27 degrees Celsius.
Visa requirements
Compared to several other countries in Southeast Asia, the visa policy in Malaysia is very simple. People from most nationalities can get a single entry or multi-entry visa. Make sure that your passport is valid for six months after arrival in the country, and always check the latest visa rules about your country before applying for the same. It is also crucial to get the best travel insurance before your journey.
Currency
The Malaysian currency is known as Malaysian Ringgit and denoted as MYR. International debit and credit cards are accepted everywhere but it is always good to carry cash for small purchases, especially in local establishments.
Getting Around
Malaysia has a very well-maintained transport system. In Malaysian Borneo, buses are the best modes of getting around. In Peninsular Malaysia, trains, buses, and taxis are readily available. Taxis are unmetered, so it is better to fix the rate beforehand. Grab is a ride-sharing app and another inexpensive way of getting around Malaysia.
Vaccinations
Many vaccinations are necessary to travel to Malaysia based on the season and the part of the country you are visiting. Kindly consult your GP or a local clinic before your travel date to check the vaccination requirements. The standard vaccinations are for Yellow Fever, Hepatitis A and B, Malaria, and Pneumonia.
Safety
Malaysia is a safe country, and there are dedicated Tourist Police who are specially equipped to assist tourists. Petty theft and credit card frauds are common, so be careful with your belongings. It is always better to be aware of your surroundings and stay alert.
Drugs
The penalty for drug possession or drug use in Malaysia is highly stringent. Always double-check your luggage for any suspicious substance. There are heavy fines and jail time involved, so always be careful and don't leave anything unattended.
Accommodation
It is always better to book your accommodations well in advance during any travel. Hotels tend to get expensive as your travel dates get closer. Air BnBs are a great option, too, as you get clean rooms for very economical prices. They also come with other amenities like a kitchen, parking area, fridge, washing machine, etc. that makes your stay very comfortable.
Packing
Malaysia is a tropical destination, so pack clothes made of lightweight and breathable fabrics such as cotton. Other essential items include comfortable footwear, sunglasses, a hat, an umbrella, and sunscreen. You can keep a light jacket for evenings, or air-conditioned places like restaurants, shopping malls, etc. Dress modestly while visiting places of worship, as showing too much skin is frowned upon.
Food
Malaysian cuisine is as diverse as its population. Street food is one of the best things to try in the country as they are pocket-friendly and mouthwatering. Some famous delicacies to try are koay cheap, rojak apom balik, and satays. Other famous Malaysian dishes are Nasi Lemak, Roti Canai, Teh Tarik, Laksa, and Mee Goreng.
Shopping
Malaysia caters to different kinds of shoppers. Kuala Lumpur has several shopping malls to buy local and international brands. Local markets are good places to shop for souvenirs and other local specialties.
Customs and Festivals
Ramadan is an excellent time as there are many celebrations, store sales, and pop-up markets everywhere. Diwali, Thaipusam, Chinese New Year, and Vesak Day are other important festivals. Always use your right hand while receiving or giving something, as using the left hand is considered impolite.
Conclusion
Malaysia is a treasure-trove of breathtaking attractions that the entire family can enjoy. So, plan a vacation to this stunning destination and have the time of your life.