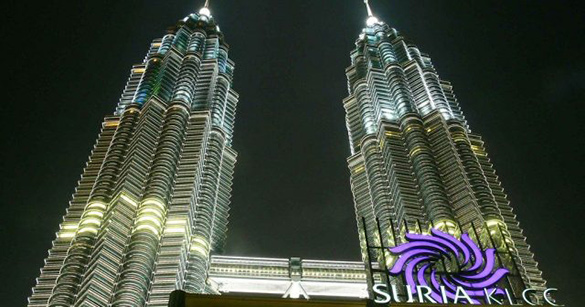 Are you more of a shopping freak than a traveller? Kuala Lumpur understands your craze to shop, shop and shop a little more, and that's why it has an impressive lot of malls and brand outlets -find the best 6 out of hundreds.
A skyline punctuated by soaring skyscrapers, a city bustling with trending food eateries and a ground that serves myriad of activities, Kuala Lumpur is a city both for budget travellers and Mr moneybags. This article belongs to the readers who are looking specifically for shopping in the awesome capital of Malaysia, KL. This city is shopper's paradise. From street-style shops to luxurious malls, the capital is packed with all tempting options.
Whether you are someone who can spend their larger number of days of the holiday in Malaysia buying goodies and commodities, or you need a quick shopping done in an hour- this guide has got you covered. So buckle up and hit these places-
1.Suria KLCC
Location: Lot 241, Level 2, Kuala Lumpur City Centre, 50088 Kuala Lumpur, Wilayah Persekutuan Kuala Lumpur
Opening Hours: 10am-10pm
You must have heard of the famous architecture, Petronas Towers which was formerly the tallest skyscraper in the world. This 'one of the best places to visit' has an iconic shopping mall named Suria KLCC. It is a 6-floor extravagant mall which has brands that can pop your eyes out of your head- Salvatore Ferragamo, Louis Vuitton, Gucci, and Marc Jacobs. Well, the prices don't have to scare you because during the annual Malaysia Mega Sale Carnival held in August you will find a jaw-dropping discount of 80%. Also when you meander along the shops, you will discover reasonable and quality brands like Bata. Not just the fashion brands are affluent, but the eateries here too are fancy, example the Din Tai Fung.
The light shows at the fountain (outside of the mall) showcases a magical adjoining of orchestral music and water performances. While you shop, the kids can enjoy at the Petrosains Discovery Centre and Aquaria KLCC.
2.Bukit Bintang and Sungei Wang Plaza
Location: Jalan Bukit Bintang, Bukit Bintang, 55100 Kuala Lumpur, Wilayah Persekutuan Kuala Lumpur
Opening Hours: 10am-10pm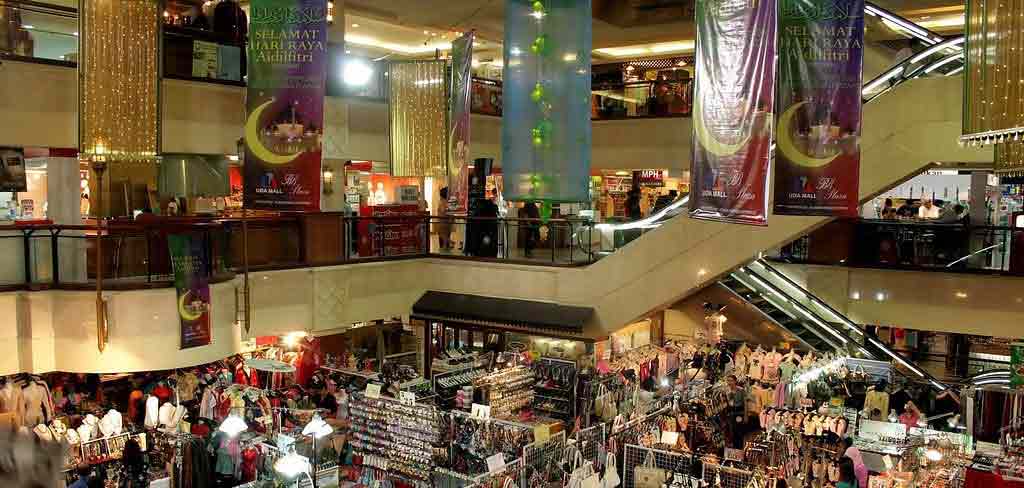 These two neighbouring stores offer fantastic pricing besides the convenient shopping. From succulent food outlets and trendy boutiques to latest electronic shops, you can buy almost anything here.
Established in 1977, the 7-storey Sungei Wang Plaza is one of the cheapest places to trigger your shopping therapy. You would be fascinated to see amass of stores that has a range of young fashion styles to elegant jewellery collection. Apart from lifestyle items, there are a lot of toys for kids too. Walk up to the third floor and get your favourite tattoo at the popular Star Tattoo Studio.
It is connected to the recreational spot and air-conditioned Bukit Bintang Plaza, which hosts everything from sleek shopping centres and 5-star hotels to buzzy nightclubs. Drool over Chinese seafood, buy Dolce & Gabbana, dance on live music and relish in the fish spa. So, it's a package of fashion and entertainment.
3.Pavilion KL
Location: 168, Bukit Bintang Street, Bukit Bintang, 55100 Kuala Lumpur, Federal Territory of Kuala Lumpur
Opening Hours: 10am-10pm

Standing tall and proud is this award-winning shopping destination spread over 1.7 million square feet, featuring 700 stores and 8 themed precincts. The mall has dedicated itself to high-end fashionistas and brand-loving shopaholics. It is a white marble complex and has beautiful interiors, even if you don't do shopping the wandering around can pay off. The main entrance has the tallest Liuli Crystal fountain that mesmerises you from the start. You can stumble upon the mind-boggling international brands for your designer wear and fashionable jewellery. The lower ground has a great food court which serves delicious cuisines.
4.Central Market
Location: Jalan Hang Kasturi, City Centre, 50050 Kuala Lumpur, Wilayah Persekutuan Kuala Lumpur
Opening Hours: 10am-9.30pm

Been to Malaysia and did not buy the local handicrafts? Your trip would remain incomplete. Celebrate the culture of Malaysia and spice up the mood with the vibrant festival like Hari Raya, Chinese New Year and Deepavali. The cheap shopping epicentre of Kuala Lumpur, Central Market is infused in a unique and innovative art concept. The stalls are grouped into multicultural categories making it simpler for you to navigate and find what you need. It has a comfortable shopping environment. The top bought handicrafts include Batik prints, Songket fabric, beadworks, woodcrafts, metal crafts, terenang jar and labu sayong clay jar. The batik range is highly famous and ranges from clothes, shoes, bags to home furnishing. Be ready to empty your wallet buying countless, quality and memorable products from handicrafts heavens.
Outside the shop is the Chinatown, keeping the Chinese shops and services on display.
5.Berjaya Times Square Mall
Location: Berjaya Times Square, Jalan Imbi, Bukit Bintang, 55100 Kuala Lumpur
Opening Hours: 10am-10pm
Pencilled as one of Asia's largest shopping malls, Berjaya Times Square expands in over 7.5 million square ft and erects strong with 48 storeys. You will be overwhelmed by the number of stores here. Yes, there are over 1000 retail stores containing merchandise from the international to local brands, and 65 food outlets including the food court, Taste of Asia. Your kids will have a great time here shopping the great range of toys from Anime Tech, Citrine Toys, and Kyosho. Paint nails in the Nail Queen, select watches at City Chain, eat delicious cuisine at Bananabro and sip drinks at TeaLive. The highlight of this mall is Malaysia's largest indoor theme park (133,000 square ft), where you can experience action-packed 14 rides.
You don't have to take a taxi or bus to reach here if you stay in the plush and reputable Berjaya Times Square Hotel which stands right adjacent to the mall.
6.Petaling Street Market
Location: Jalan Petaling, City Centre, 50000 Kuala Lumpur, Wilayah Persekutuan Kuala Lumpur, Malaysia
Opening Hours: 10am-9pm
A well-known shopping junction in KL, Petaling Street Market is an uplift in the street style shop. Gone is the time of the patchy roads and roofing with umbrellas; it is a bright colourful and cheerful place that has green canopy shading both the retailers and customers from heat and rain. It is a chock-full of shops and food. Clothes, handbags, watches, and a lot more are open at the best prices. What you will appreciate the most about this shopper's haven and foodie's galore is the bargaining price. For people who are crazy about the brand but can't afford them, shopping here would feel like pleasure. Besides quality, it is an excellent value for money.
We look forward to hearing your great experience at these perfect malls and stores in Kuala Lumpur.