From iconic Petronas Towers to splendid Pangkor Island and its beaches, Malaysia is a complete holiday destination. Here is the run through the cost of travelling, accommodation, food, activities and some mind-boggling Malaysia budget travel ideas.
Malaysia is one of the Southeast Asia countries that every visitor would want to revisit. Being a land that is home to amazing diversity, world-famous monuments, gorgeous islands and pristine beaches, the country is comparatively cheap to what versatility it offers to the travellers.
Not just affordability counts, but the entire environment with contrasting details (as the lofty skyscraper looking down to small wooden houses), magnificent nature and welcoming people keeps the country on top of holiday destination list.
It's no wonder that Malaysia is a bundle of fun and celebrations and the truly cosmopolitan vibe succeeds in charming everybody. To travel the country without blowing the bank, explore all the wonderful information on Malaysia trip cost-
1.How much does it cost to travel in Malaysia?
A vacation in Malaysia for 5 nights can round up to roughly MYR 1790/ 30000INR* including accommodation and other amenities.
* (1MYR= 16.8 INR)
(1USD= 4.17 MYR)
2.Are you travelling from India?

When you book around a month or two before the journey date, the flight can come really reasonable at 417 MYR/ 7000INR and get a return combo at 894MYR/ 15000 INR. Also, there are many discounts on certain credit cards and banks and this can cut down the already-low pricing, making it more feasible.
3.How many days we must spend in Malaysia?
Malaysia has so much to give to its visitors that you have to stay for a while to imbibe its elegance. From March to early October, the country calls in the ideal time for its tourists to arrive and check the main viewpoints, enjoy the exciting activities and live a memorable journey of your life.
So, the answer depends on exactly what you want to do and see in the country. If you are in hurry and want to just have a look at the best cities like Kuala Lumpur then you can settle on the one-day sightseeing. The itineraries are perfectly planned and structured that picks out the landmark things to participate in.
If one day seems insufficient for you, the 2-day package will give you a complete travel outlook of any city. And lastly, if plans are longer and better, follow this routine-
Taman Negara (2 days)
Cameron Highlands (2–3 days)
Langkawi (3 days)
Perhentian Islands (2 days)
Kuala Lumpur (2 days)
Getting into a particular city according to what you want to do in your vacation is important and here it is- If you want to have a whale of a time in a casino and theme park, then Genting is for you. If you crave food and watch the cultural aspects, then visit Kuala Lumpur, Penang, and Malacca, and keep Langkawi locked for the ultimate relaxation and relishing phase.
4.How much we need to spend on accommodation in Malaysia?
Considering you are budget-driven and a backpacker, who is willing to stay in a hostel or lodge, you can spend your getaway at 100 MYR. Dorms are available at 30-55 MYR per night, while the private rooms are opened at 75MYR for a single room and 100 MYR for double.
Well, holidaying with family or friends and thinking for a more comfortable and luxurious place, then you have to splurge a bit more than the usual budget hotels.
5.How much Food and Drink cost in Malaysia?
Malaysia is known as gastronomical paradise. There is a multitude of options when it comes to having a good meal in the country. Just say, if you are a street food fan we have got to tell you the place leaves no stone unturned in keeping you impressed- be it the taste or the cost. One other good thing about Malaysian cuisine is your taste bud will never ever be bored. One great night you decide to eat Chinese, the other morning you can wake to fancy Indian food.
Street food is dime a dozen, starting at 4MYR and going somewhere around 11MYR. The average money to be spent in a day in Malaysia is totalled to be 71 MYR.
And if you are little more concerned about the expenses, don't look towards the alcohols. They are way too expensive in the country and also it isn't served in most restaurants.
6.How much we must spend on sightseeing in Malaysia?
With an average budget scaling to 51MYR, the transportation remains friendly and cheap. Taxis can be over-priced though, you can always get a place in the buses which round to 5-11 MYR per hour.
The average activities' expenditure is 13MYR. And following are few spectacles:-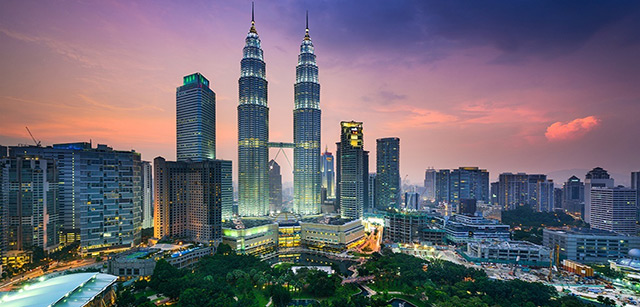 Kuala Lumpur, being the capital has the prestige to come up with the most attractive sights of all. And making it first on the list, make sure to tick off the Petronas Towers. Either walk down the nerve-wracking bridge between the twin towers or stroll in the park and malls around.
At 4MYR, in a train, you can reach the majestic Batu Caves which is yet another huge tourist attraction.
Astonishingly famous among the adventure enthusiasts, Perhentian Islands are great for snorkelers and divers.
A must-visit for nature admirer is the Lake Gardens Area which occupies The Orchid Garden, Butterfly Park and Bird Park.
If history inspires you, drop a visit at the National Art Gallery and National Museum that has all heritage and culture buffs.
Do budget-friendly shopping at Chinatown Market.
The most expensive activity of all is scuba diving. Filled with barracudas, manta rays, hammerhead sharks, whale sharks, and greenback and hawksbill turtles, the Spadan Island can promise you one of the life-changing experience ever.
7.Malaysia Budget Travel Ideas
Facing budget squeeze? Then these options can make you a good time in Malaysia-
If buses don't favour you, and you have to sit on the taxis, remember they work on meter and this can charge you costlier, so agree on price up-front before the ride begins.
You can turn a lot adventurous by staying at a camp in Taman Negara.
Ditch the fancy restaurants and choose the hawker food.
As Malaysia is a Muslim country, drinking is judged and is rather expensive.
That's the beauty of the country- everyone from a budget-tracker to spendthrift can afford a grand and magical Malaysia expedition. Book your next holiday right away.