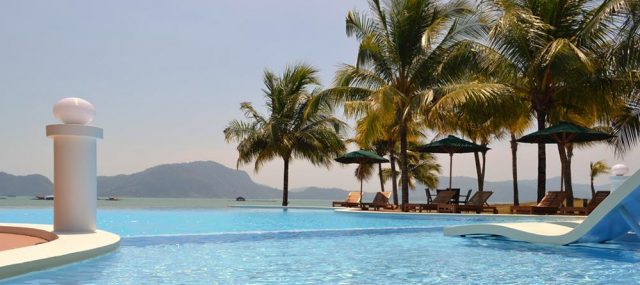 The infinity pools of Malaysia is a big relief from the hot tropical climate of Malaysia. A dip in the pool with verdant upland hillsides, towering cityscapes or tropical beaches in the backdrop can be enchanting and relaxing. These infinity pools are destinations in their own rights where guests and visitors can bring their family and friends along. The rooftop infinity pools in the beautiful resorts of Malaysia also give you a panoramic view of the city at a nominal price. Below are some of the handpicked top infinity pools in Malaysia which you should definitely give it a try.
1. Templer Park Rainforest Retreat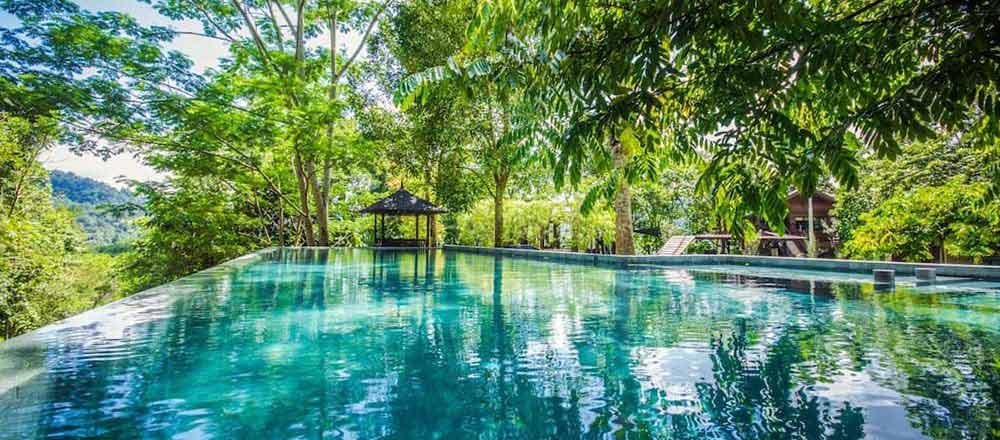 Situated at Selangor, which is just a 30-minute drive from Kuala Lumpur, this resort is ideal for family and friends to laze and relax or even host a happening party all night. This retreat houses a stunning swimming pool and a BBQ grill area for the food lovers. Guests here will have to get their own BBQ material for using the same.
2. Philea Resort, Melaka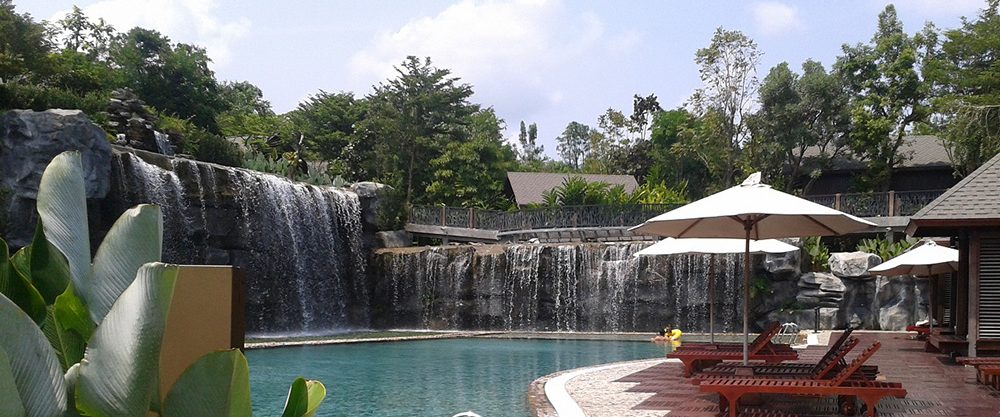 Placed in the neighborhood of Malacca Butterfly and Reptile Sanctuary, and Melaka Night Zoo. This man-made setting of the Philea Resort gives an intimate setting and provides an ideal atmosphere for water based activities and a pool which is nestled in between river stones. Tourists and guests can swim, sunbathe by the pool, or just laze around enjoying the scenic man-made waterfall.
3. The Ocean Residence, Langkawi
Placed at only 20 minutes from Cenang and Tengah beaches, this resort houses a stunning infinity pool which is accessible via a few steps from each room in this exotic resort. Apart from the Long house pool, guests can also get an exotic indulgence in a natural ocean pool and an infinity pool.
4. Villa Danialla Beach Resort
Located in Kelantan, this resort has a spectacular amazing outdoor pool. A dip into the rejuvenated swimming pool with the stunning sea in the backdrop. Experience the cool breeze from the sea at the Beach Café. The Guests can also play American Pool Table if they are bored and take part in other exotic activities such as Thai massage, sauna, beach volleyball, horseback beach riding, and much more.
5. The Shorea, Negeri Sembilan
One of the most exotic and romantic mountain resorts in Malaysia, this is one of the popular resorts for a pre-wedding or wedding photo shoot. Many couples look to enjoy a honeymoon here due to its magnificent ambiance and intimate setting. With butterflies hovering around the pool, you can't ask for a more beautiful view at this height above the sea level.
6. Suria Hot Spring Resort, Pahang
Placed at an hour's drive from Kuala Lumpur, Suria Hot Spring Resort houses a cool and hot water pool, giving guests exotic indulgences to choose from the public cool water spring or the hot water spring, or opt for a private pool for an intimate private setting.
7. Eastern Oriental Hotel, Penang
You will fall in love seeing the infinity pool which faces the Andaman Sea. The Eastern Oriental Hotel is placed at a short walk away from the City Hall and the Penang State Museum. Get an upscale relaxation and some hip vibes which are ideal for souls looking for peace and tranquility.
8. Tropika Getaway at Rainforest Sanctuary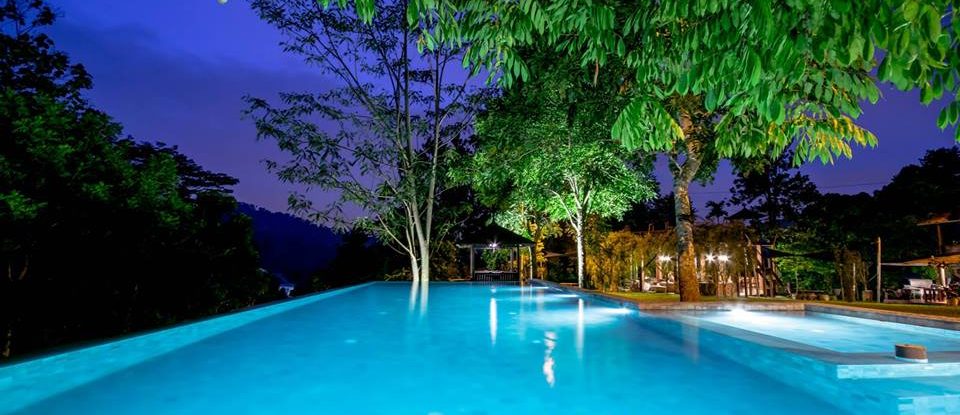 This retreat is situated on the mountain and the temperature hovers around 19-28°C. This retreat houses an enchanting open-air swimming pool and a stunning Jacuzzi. Soak in the ambiance of the exotic pool at night with your loved ones and you can indulge in some fun conversations all day while experiencing the cool breeze.
9. Hotel Jen, Johor
Situated in Puteri Harbor, that is about 35 minutes' drive from Senai Airport. The infinity pool in this exotic resort gives you a spectacular view of the Puteri Harbor and enjoy a scrumptious dinner at the Skybar Bar & restaurant by the poolside for an exotic indulgence.
10. Villa Samadhi, Kuala Lumpur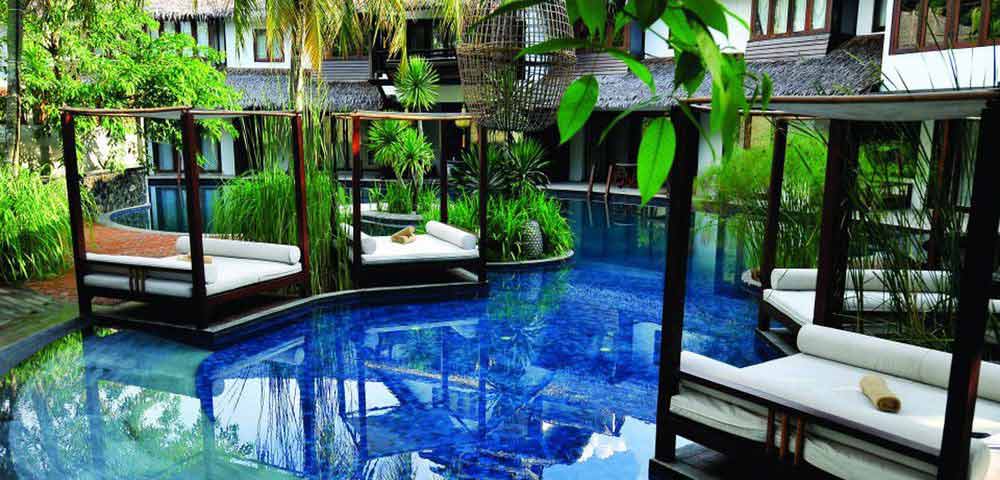 Placed in the residential area which gives you an intimate privacy setting and hence often considered as a secret hideout by the urban-weary folks. The Villa Samadhi is located at a short 10-minute drive from the Suria KLCC and the Petronas Twin Towers in Bukit Bintang. A visit to the pool is a wonderful way to refresh and rejuvenate your senses away from the bustles of the busy city.
11. The St. Regis Langkawi, Kedah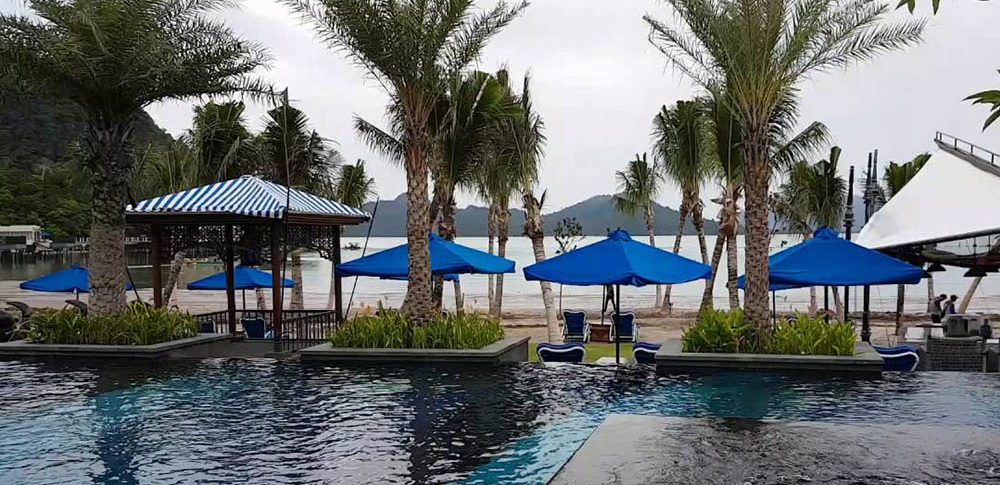 Placed in the vicinity of Sungai Kilim Nature Park and Langkawi Bird Paradise, next to Langkawi Kristal. The infinity pool at St. Regis Langkawi creates a royal impression at the very first glance. A perfect place to relax and rejuvenate your body, mind, and soul away from the bustles of the city. There is also a children's wading pool next to the main swimming pool where your little ones can have fun splashing water around.
12. The Banjaran Hotsprings Retreat, Perak
The Banjaran Hotsprings Retreat is placed 15 minutes away from the city of Ipoh. This exotic resort gives you a wide range of swimming pools from hot spring to freeform swimming pool and fish pool. There is an exotic indulgence for the guests, which includes a meditation cave.
13. The Haven Resort Hotel, Perak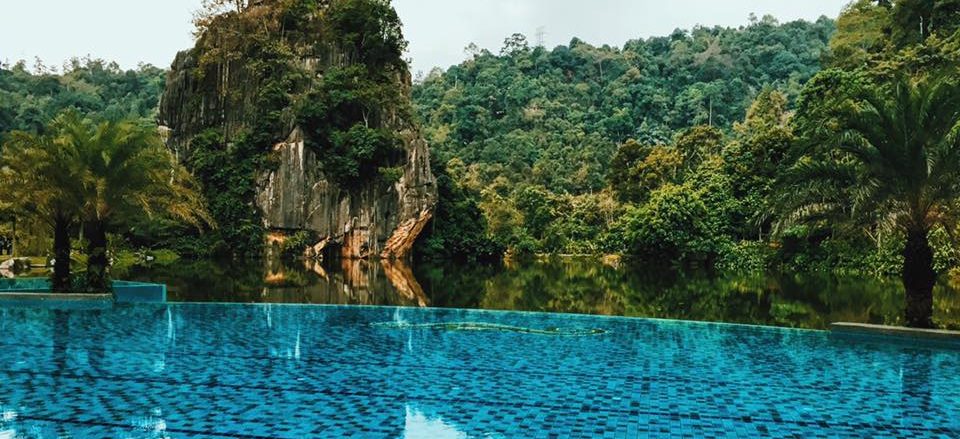 Located at a stone throw away distance from the enchanting Ipoh Parade, this resort houses a trademark 5 level 60-meter seahorse shaped exotic swimming pool for its guests. The guests can experience exotic indulgence like leisure pool, Jacuzzi, a wading pool, children's pool, and a lap pool.
14. Nexus Resort & Spa Karambunai, Sabah
Located in Kota Kinabalu, the Nexus Resort & Spa is popular among tourists and local alike for its outdoor Jacuzzi and an exotic swimming pool. Get a royal like experience with a drink and some quick bites from the Splashes Pool Bar. A refreshing experience which you should never miss out on.
15. Temple Tree at Bon Ton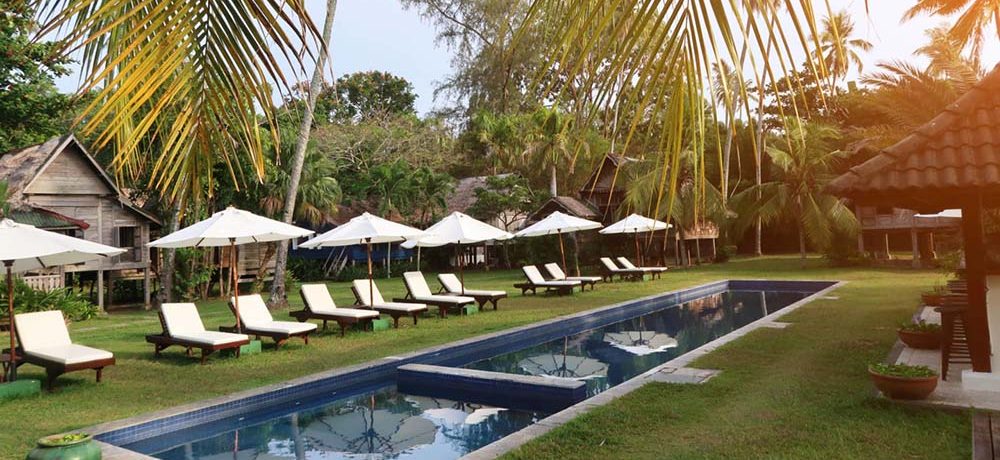 Named in the 101 best hotels in the world, this retreat houses seven different varieties of old houses which are inspired by Chinese, Malay, Indian, and the colonial era design and style while still maintaining the thick Malay flavor. There is a spectacular magnificent swimming pool and an outdoor pool where you can indulge in some sunbathing or just laze around the lap of nature.