Batu Caves is one of the most popular tourist destinations in Malaysia. Located in the Gombak district of Selangor, this iconic attraction is home to a series of limestone caves that house several Hindu temples and shrines. The site is also famous for the giant statue of Lord Murugan, which stands at the entrance to the caves. In this article, we will provide some tips on how to reach Batu Caves, the best time to visit, and some general tips to make the most of your trip.
How to Reach Batu Caves?
Depending on your location and preferences, there are several ways to get to Batu Caves. Here are some of the common ways to reach there:
By Train: The most convenient way to get to Batu Caves is by train. The KTM Komuter train service connects Batu Caves with other parts of Kuala Lumpur and the Klang Valley. The Batu Caves station is located right next to the attraction, making it easy to get in and out. Trains run regularly throughout the day, so you will immediately catch a ride.
By Bus: If you are looking for a budget-friendly option, taking the bus is a good choice. RapidKL and Metrobus operate several bus routes that stop near Batu Caves. The bus ride may take longer than the train, but it is still a reliable and affordable way to get there.
By Car: If you prefer to drive, rent a car or take a taxi to Batu Caves. However, remember that parking can be a challenge, especially during peak hours. You may have to park your car farther away and walk to the attraction.
Learn more about getting around in Malaysia.
Best Time to Visit Batu Caves
Batu Caves is open to visitors all year round, but there are certain times when it is best to go. Some critical factors to consider when planning your visit:
Weather: The weather in Malaysia can be pretty hot and humid, so it is best to visit Batu Caves during the cooler months (from December to February). You will enjoy the attraction more if you are not sweating profusely! It is also one of the famous summer attractions in Malaysia.
Festivals: Batu Caves is a popular destination for Malaysia festivals, such as Thaipusam and Deepavali. Plan your trip around these dates if you want to experience vibrant celebrations and see the temples in their full glory.
Crowds: Batu Caves can get very crowded, especially on weekends and public holidays. If you want to avoid crowds, try to visit early in the morning or during weekdays.
Tips for Visiting Batu Caves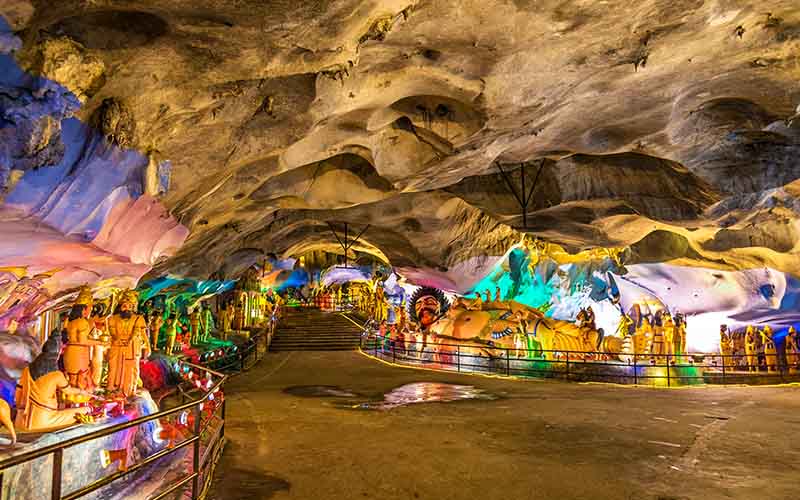 Here are some general tips to help you make the most of your trip to Batu Caves:
Dress Appropriately: Batu Caves is a religious site, so visitors are expected to dress modestly. Avoid wearing shorts, sleeveless tops, or revealing clothing. You may also be required to remove your shoes before entering some temples, so wear slip-on shoes that are easy to take off and put on.
Bring Water and Snacks: It can get quite hot and tiring walking around Batu Caves, so make sure to bring water and snacks to keep you hydrated and energized.
Be Respectful: Batu Caves is a sacred site for Hindus, so be respectful of their beliefs and practices. Do not touch or take anything from the shrines; avoid taking selfies or posing inappropriately.
Watch Out for Monkeys: Batu Caves is home to several long-tailed macaque monkeys, which can be pretty aggressive if they feel threatened. Please do not feed or provoke them, and keep your belongings.
Wear Comfortable Shoes: Batu Caves involves much walking and climbing, so wear comfortable shoes that you can easily walk in for extended periods.
Bring a Hat and Sunscreen: If you plan to visit during the day, protect yourself from the sun's harmful rays by wearing a hat and applying sunscreen.
Plan for Time: Batu Caves is one of the free things to do in Malaysia, so a lot of tourists visit this place. It is a significant attraction with several temples and shrines to explore, so plan for enough time to see everything. Allocate at least half a day for your visit.
Be Prepared for Steps: There are many steps to climb at Batu Caves, so if you have mobility issues, plan your visit accordingly. There are also elevators available for those who need them.
Check for Maintenance: Due to the nature of the limestone caves, there may be ongoing maintenance work at Batu Caves. Check the attraction updates before your visit to ensure that everything is open and accessible.
Respect the Environment: Batu Caves is also a natural attraction, so make sure to dispose of your trash properly and avoid damaging any of the flora or fauna in the area.
Photography Tips: Batu Caves is a beautiful and photogenic attraction, so make sure to bring your camera or smartphone to capture some great shots. However, remember to be respectful and avoid taking pictures during religious ceremonies or when signs indicate that photography is not allowed.
Check the Schedule: If you are interested in attending a Hindu ceremony or festival at Batu Caves, check the schedule beforehand to ensure you are there at the right time. You may also want to research the significance and traditions of the event to understand better what you are witnessing.
Explore the Surrounding Area: Batu Caves is located in a beautiful natural setting, so take some time to explore the surrounding hills and caves. Several hiking trails offer awesome views of the area.
Experience the Food: The area around Batu Caves is known for its delicious Indian and Malaysian cuisine. Make sure to try some of the local cuisines, such as roti canai, nasi lemak, and banana leaf rice, at the many restaurants and food stalls in the area.
Learn About the History: Batu Caves has a rich history that dates back to prehistoric times. Several informative displays and exhibits around the site provide more information. Take some time to learn about the cultural and geological significance of the caves.
By incorporating these insights into your visit to Batu Caves, you will be able to fully appreciate the beauty, history, and culture of this unique attraction.
Conclusion
Batu Caves is a must-visit attraction for anyone traveling to Kuala Lumpur, Malaysia. Whether you are interested in Hinduism or natural wonders or want to explore a beautiful and historic site, Batu Caves has something for everyone. By following the tips and insights discussed in this article, you will be able to have a more enjoyable and meaningful experience at Batu Caves. From respecting the environment to learning about the history and culture of the site, there is much to discover and appreciate at this iconic Malaysian attraction. So pack your bags, wear comfortable shoes, and get ready to be awed by the beauty and grandeur of Batu Caves.